GEHWOL PEDICURE PRODUCTS IN PAPHOS FOR HEALTHY FEET OF OUR CLIENTS
Gehwol Fusskraft Green – Helps to combat smelly feet after participating in sports. The improved formula includes Deozinc, which has a mild sweat reducing effect and prevents the break-down of sweat through bacteria that causes the odor. It absorbs the unpleasant odor so your feet can breathe again. An active complex comprising urea, aloe vera, and glycerin moisturizes the skin. Jojoba oil and shea butter gently soothe and readily penetrate the skin without leaving the oily film on the surface. Menthol cools and refreshes the hot feet. Essential oils of rosemary, mountain pine, and lavender, together with a tried and tested active substance, provide long-lasting protection against the athlete's foot. These creams also contain trace elements of zinc, essential for skin formation, and are used in wound treatment. Certain zinc compounds also provide lasting protection against foot odor. A primary zinc compound is zinc oxide, which is very often used in cosmetics as it is ideal for managing sensitive skin. The antimicrobial effect of zinc oxide is particularly beneficial in foot creams, the decomposition of sweat through bacteria, which prevents unpleasantly smelling substances such as butyric acid.
Furthermore, zinc oxide binds lower fatty acids, such as Isovaleric acid, which is another of the foul-smelling substances in sweaty feet. Zinc Oxide also has a mild sweat-reducing effect. Zinc ricinolate is a zinc salt of a ricinolate acid. It binds foul-smelling elements. It thus prevents the accumulation of odor through a microbial decomposing foot sweat. This effect cannot be achieved as effectively with any other zinc salt of different fatty acids. Even other metal salts which also possess odor-eliminating properties are not as suitable as zinc ricinolate for use in cosmetics. This cream is ideal for Paphos Marathon, Bike sports, gym, etc.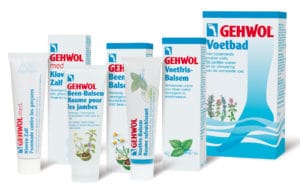 Gehwol Med Foot Deodorant Cream is a unique blend of active ingredients, including manuka oil, and activating zinc oxide provides lasting relief from foot odor. Given its effect on bacteria and fungi, it is particularly suitable for foot hygiene. With its anti-inflammatory properties, Aloe vera moisturizes the skin and has a regenerating effect. Jojoba oil contains precious unsaturated fatty acids; it quickly absorbs and promotes the skin's natural functions.
Manuka oil is a kind of secret weapon in the battle against sweat. For hundreds of years, the healing properties of the New Zealand tea tree were known only to the indigenous population, the remedy prepared from the bark of the tree, capsule fruits, and seeds used by the Maori in the management of skin diseases, fever, and pain. Nowadays, we have scientific proof that manuka oil possesses antibacterial, antibiotics, and antiviral properties. Regular use of this cream helps prevent foot odor and fungal infection, leaving the skin soft and supple. The substance has a threefold effect, making the essential oil particularly interesting in foot care. The natural deodorizing active ingredient does not effectively counteract odor generating bacteria, but skin fungi such as Candida Albicans are also prevented. At the same time, compared with the Australian tea tree oil, manuka oil is exceptionally well tolerated by the skin since it contains only a minimal amount of cineol. The gentle strength of Manuka oil with herbs can be felt in the Gehwol Med Deodorant Foot Cream.
Gehwol Med Foot Powder – we use that a lot for our Beauty Spa Salon clients in Paphos having problems with sweaty feet and foot odor. Triclosan is a tried and tested deodorant substance that helps prevent foot odor. It contains tapioca starch to bind moisture and keep the skin of the feet dry. Cooling menthol reduces itching and has an antiseptic effect. Like the other Gehwol Med Treatment products, Gehwol Med Foot Powder also contains Bisabolol to inhibit inflammation and promote healing prevents fungal infections.
Gehwol Med Nail Protection Pen – Brittle and dry nails become supple, beautiful, and gain a natural silky sheen with a new Gehwol Med Nail Protection Pen. As a product designed for long-term use on the nails, the pen provides adequate protection against fungal infection while making nails lovely. They contain Jojoba oil, vitamin e, panthenol, bisabolol, and clotrimazole application. The pen shape makes it particularly easy to apply the active substance. A thin film on the nails is enough to use the pen over a thousand times. Three application heads are included to always receive the perfect amount of the product for each nail—ideal for the Paphos winter climate with high humidity to combat fungus infection and provide you with a feet comfort. 
Gehwol Fusskraft Foot Spray – Healthy, elastic, and flexible nails is an eye-catcher. It contains the following tried and tested skin protection ingredients: bisabolol, panthenol, vitamin e, and clotrimazole. The easy-to-spread oil components protect the nails and surrounding skin. This ensures optimal distribution of the soothing active substances over the nail area and the nail fold. Panthenol is a pro-vitamin of a pantothenic acid vitamin B5, which is extremely important in the regeneration of skin cells. It readily penetrates the skin and nails, increases the water-binding capacity of the nails, and improves their flexibility and stability. Panthenol also possesses bactericidal and fungicidal properties. Bisabolol, from the essential oil of pure chamomile, soothes and treats dry, sensitive skin, just like panthenol, is had an anti-inflammatory effect and promotes the healing process. It is ideal for skincare after removing nail skin. At the same time, Bisabolol possesses antibacterial, fungicidal, and sporicidal properties. Targeted nail care, comfortable, and highly economical to use, the new Gehwol Fusskraft Foot Spray is sufficient to treat approximately 1,000 nails. The spray tube facilitates targeted spray, enabling patients with a visual impairment or limited mobility to use this spray easily at home or while traveling. The product limits the quantity sprayed to the required amount with its dosing valve. One spray per nail and the surrounding skin is generally enough. Additionally, the narrow spraying angle defines the area moistened.
Gehwol Med Protective Nail and Skin Cream – If the skin around the nail is dry, this cream is an excellent choice. Besides helping to protect against fungal infections, it offers a reach treatment of wheat germ oil, panthenol, and bisabolol. Gehwol Med Protective Nail and Skin Cream is especially suitable for treating the skin around the nails and between the toes, and it is easily massaged in.
Gehwol Fusskraft Red – People with cold feet in the winter months are not a rarity. Other than a risk of catching a cold, they are faced with yet one more problem, cold feet, poor circulation, and the tendency for dry skin. Gehwol Fusskraft Red heats the feet, helps to relax the muscles, and boost the blood flow, the ingredient such as paprika extract and ginger have a stimulating effect and promote circulation, also recommended for pain relief. The active agent capsaicin and extract of pepper provide a warming result. These substances stimulate heat receptors in the skin. This leads to the expansion of blood vessels, exceptionally fine capillaries, as the circulation intensifies. Foot skin receives comprehensive care using jojoba oil and lanolin and makes the dry, chapped skin elastic and supple. The unique ethereal oil mixture aids the warming effect. Extracts of rosemary, lavender, and dwarf pine invigorate the circulation and stimulate metabolic processes. Additionally, aromatic plant oils deodorize and disinfect so that the feet do not sweat in thick socks and warm winter shoes.
Gehwol Foot Cream – The active ingredients of this cream include medicated soda, vaseline, lanolin, powder, essential oils of eucalyptus, rosemary, lavender, thyme, chlorothalonil, menthol, and camphor. Apply Gehwol Foot Cream approximately 1mm thick to tired feet, wear thick socks and keen footwear. It protects against wounds, blisters, and intertrigo. It keeps the skin of the feet smooth and elastic. The cream contains chlorothalonil and thyme to deodorize, disinfect, and help protect from athlete's foot as we as camphor to stimulate blood flow and menthol to refresh.
Gehwol Foot Cream Extra – These are the beneficial ingredients in this cream: potassium, paraffin oil, lanolin, rosemary oil, eucalyptus, lavender, thyme, camphor, menthol, triclosan, and chlorothalonil. Rub the cream to the feet once or twice daily. This relieves tired, chilblains, very sweaty feet, and severe hard skin. It also softens dry skin and helps protect against calluses and cracked skin.
The cream's base is made from soap, paraffin oil, and lanolin to soften hard skin. Essential oils and camphor promote blood flow and strengthen the skin. At the same time, a cooling and refreshing effect comes from menthol. Triclosan is a deodorant, while chlorothalonil is a disinfectant that helps protect against athlete's foot.
Gehwol Rosemary Bath Salt – Created from the oil of rosemary and the base of bath salts, the cleansing foot bath works with the natural power and stimulation of rosemary oil. Triclosan protects against foot odors, and chlorothalonil helps to protect against fungal infections.
Gehwol Mother-of-Pearl scrub is unique because gentle care starts even during the scrub. The biomineral mother-of-pearl gently but effectively removes dead skin scales from the foot and the leg skin. This scrub provides excellent results with beautiful sugar crystals and massaging wax balls. Sugar is a particularly gentle scrub, and as it is pressed into the skin, the sugar crystals dissolve, bit by bit, the scrubbing subsides so that the skin is not overly irritated. The jojoba balls have the same benefits. Due to their waxy consistency, they excel with a scrubbing effect then dissolve releasing nourishing substances to the skin, this way the skin receives valuable multiple unsaturated fatty acids, they are part of the natural skin lipids and support the natural barrier function of the skin, which is still sensitive after the old callus layer is removed.
The skin-friendly jojoba oil, mineral-rich seawater, and high-quality moisturizing substances from unique algae extract to produce a silky soft skin sensation and strengthen natural skin barriers against pathogens. Furthermore, the scrub contains Bisabolol; this proven ingredient of the volatile chamomile oil is an anti-inflammatory and encourages wound healing and soothing the skin during the scrub. Panthenol, which transforms into Vitamin B3 in the skin, supports the production of new skin cells also has a skin-soothing effect. The scrub treatment provides a unique smooth, silky, and resistant skin surface. This is ideal for Paphos summertime to make the feet look perfect for the summer period.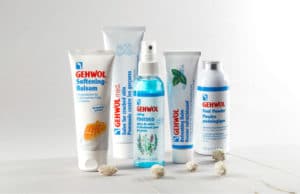 Gehwol Fusskraft Caring Foot Spray – Everyone likes fresh and well-cared feet, but not everyone wants the sensation of cream on their feet or always has time to massage their feet and wait until the foot cream is absorbed. This foot spray is an optimal alternative for those who prefer sprays yet do not want to do without the caring ingredients of a cream. It is also suitable when the time is short, for instance in the morning, after sports or even on the go. Everything that the skin needs are in Gehwol Fusskraft Caring Foot Spray. Selected natural ingredients work together so that the skin of the feed remains or becomes healthy and silky. It ensures a balanced moisture household of the skin. It penetrates deeply into the surface, where it binds water, keeping the skin elastic and soft. It effectively softens The hard callus and prevents the excessive formation of the new callus cells. It also counteracts sweat overproduction and has a positive effect on cell regeneration. The panthenol in the spray also has this effect. It is the skin vitamin that makes a decisive contribution to creating new skin cells, together with bisabolol, the active substance of chamomile. It also soothes irritated and sensitive skin.
The anti-fungal protection, typical for Gehwol, comes from Farnesyl as a component of various essential oils and a salt of selenic acid that occurs in every human organism. Together, the two ingredients have an antibacterial, fungicidal effect. This fights foot fungus and the microorganisms on the skin, which decompose sweat; foot odor doesn't have a chance. The Gehwol Fusskraft Foot Caring Spray is rich like foot cream yet optimal for those who don't like cream. The spray smells pleasantly fresh and "younger" with these ingredients. The new care spray in the pressurized can is more comfortable to apply. Push the button, and the nourishing fluid distributes on the foot skin in the form of a fine aerosol. The fine nozzle means that the shower goes precisely where required. The mist evenly distributes the nutritious ingredients; this allows them to be absorbed incredibly quickly; the added effort of massaging is no longer necessary. Also, the foot spray is incredibly thrifty to use.
Gehwol Herbal Bath – Soften hard skin and calluses, leaving a lasting protecting effect on the surface. A natural moisturizing factor, Urea keeps the skin elastic, soft, and supple. It's also mildly antiseptic and deodorizing. It has plenty of natural essential oils such as mountain pine, rosemary, and lavender which you'll love. They have a relaxing effect. They stimulate the metabolism and encourage blood flow. The antiseptic and deodorizing effect causes a reversal in the excessive sweating of the feet and the end of the unpleasant odor. An essential remedy in ancient China, the camphor, strengthens the effects of the essential oils for a spectacular feeling of your feet. Ideal for those who do sports or stand a lot during the day, it relaxes the whole body, enhances the mood, and improves sleep.
Gehwol Bamboo Scrub – Exfoliates and smooths excess skin. It contains nourishing active substances such as avocado oil, honey extract, vitamin E, and Kobo X pearls. It gently removes surface skin scales while the powder is finely ground and gentle on the fresh skin, making it silky. The Kobo X pearls also have a slight scrubbing. It helps you in many ways. It reveals a new bright skin surface, prevents ingrown hairs from shaving, and stimulates circulation.
Gehwol Herbal Lotion – healing and calming effect will give a quick comfort as it refreshes and deodorizes the feet. The essential oils of rosemary, lavender, and mountain pine release a pleasant fragrance. At the same time, the skin strengthens, and circulation improves. Additionally, these herbal oils keep decomposing sweat bacteria of the foot in check. Urea and the deodorizing active substance Farnesyl intensify this effect and conquer unpleasant foot odor. The natural moisturizer Urea also improves the skin's water-binding capacity leaving it elastic and smooth while at the same time halting the excessive formation of dry skin. The Herbal Lotion also contains menthol, an ingredient of peppermint oil that has a refreshing cooling effect and alleviates itchiness and burning sensations. The result is beautiful, supple skin, free of unpleasant odor and discomfort. 
Cosmetic Products for Face and Body in Cyprus
If you're in Cyprus and on the hunt for an exceptional online cosmetics shop that caters to all your beauty needs, minus those for your feet, BuyCosmetics.CY is your go-to destination. Brimming with a bevy of beauty brands from around the globe, they leave no stone unturned in bringing the crème de la crème of the cosmetic world to your doorstep.
Boasting an impressive line-up of premier labels such as:
Biologique Recherche

, renowned for its high-performance, innovative skincare products that command an international following,

Augustinus Bader

, the leader in cellular rejuvenation technology and transformative skincare solutions,

iS Clinical

, a brand that beautifully marries the worlds of skincare and science to offer advanced, efficacious formulations, and

Colorescience

, celebrated for its fusion of cosmetics and skincare that results in products with compelling beauty benefits.
BuyCosmetics.CY presents a lavish beauty buffet, with offerings for every aspect of your skincare and beauty regimen. Their carefully curated selection leaves you spoilt for choice, promising to elevate your skincare game to a whole new level.
Their commitment to providing a seamless shopping experience doesn't stop at the quality and variety of their product range. One of the core tenets of their business is the promise of free and speedy delivery across the entire span of Cyprus. No matter where you are located within the island, your beauty bounty will find its way to you promptly and without any extra charges.
In essence, BuyCosmetics.CY is an exemplary model of a digital cosmetic store that provides unmatched luxury, variety, and service. Trust BuyCosmetics.CY for a radiant complexion, luscious locks, or a makeup makeover – they have you covered in all areas, except for foot care. Step into the world of BuyCosmetics.CY, where the ultimate beauty experience awaits you.
May you have discomfort with your feet, or you need a decent pedicure, manicure, or other services our beauty salon in Pafos provides. Please contact us with your desired date and time, and we will contact you with a confirmation.