Beauty Salon in Paphos for Manicure & Pedicure Treatments for Women & Men
Everybody chooses our Beauty Spa Salon in Paphos for the pedicure, manicure, waxing, and eyebrows treatments! The reason is that the services we provide come from experience, care, and love for what we do. We tend to see our work as a form of art, dedication, and discipline combined, resulting from pure Mastery.
In your Pedi session, we will use effective German methods (Gerlach Technik) for your feet to become soft like a baby's.
We understand your need to have beautiful and healthy feet, and we believe that professional foot care treatments must be suitable for both women and men in Paphos.
Our feet carry us through all our lives, it is necessary to take proper care of them, not only from the cosmetic treatment of the feet and toenails view but also for the health of your feet because healthy feet are essential.
We use highly professional German products and keep our prices reasonable so that everybody can have a professional look after their feet at our Beauty Salon in Paphos or at home with our Gehwol Products for treatments at home for cosmetic and therapeutic purposes.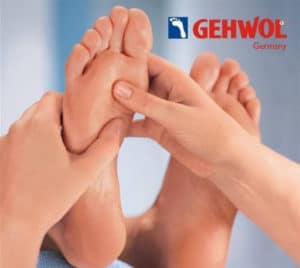 Gehwol pedicure is efficient, mainly due to two reasons. The first is the initial use of unique surgery knives to remove dead and cracked skin, callouses, and corns before the stage where the feet' skin gets polished. The second is German antifungal and smoothing products, which we apply on feet, skin, and nails to get the skin soft and elastic to prevent callouses. When the treatment is done, you'll see the aesthetic results from the Gehwol pedicure straight away, but also, you'll boost your feet's general health condition at the same time.
An additional benefit is that you'll most likely find the whole treatment very enjoyable due to the polish machine giving massage to your feet.
You were wondering where a pedicure near me is? Well, we are here for you from 1999, providing a proper pedicure treatment in Paphos. After our 20 years of experience, we believe that Gehwol pedicure and German Gerlach Technologies make the Gehwol pedicure probably the world's best pedicure treatment.
We use products from a German company called Gehwol which was formed in 1978 by the Klaus Gerlach Meinders.
Click here to learn more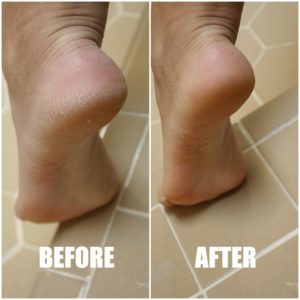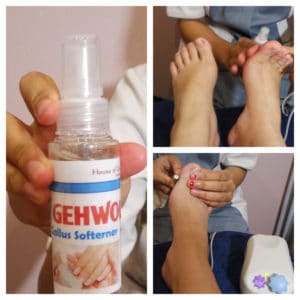 Beauty Spa Salon for Manicure Treatments for Women & Men in Paphos 
A woman may not be beautiful, but she is bound to be well-groomed. This is why decent and often manicure treatments are so important. 
Neat nails for businesswomen, bright colors to give extravagant ladies, pastel colors for romantic persons – manicure always corresponds to hygiene and health care requirements. 
In our Beauty Spa Salon in Paphos, our manicure master follows the novelties of the beauty industry to provide your nails with the best care. Using professional equipment and coating keeps the manicure long-lasting and the client happy.
We care about the hands and nails of each of our clients. For that reason, we are using the newest equipment and the best products on the market to provide you with the best manicure treatment. 
The results you will get from a professional manicure in our salon will impress you and others who see it. Not everyone can master the craft of manicure at home; that's why it's better to have a professional manicurist look after your hands. 
And because we believe that all women should be able to have a proper Mani treatment done on their hands every month, we keep our prices reasonably low, and we believe that our high-quality service will make you our lifetime valued client.
We do also provide a simple executive manicure for men in our Beauty Salon.
 We guarantee the hygiene and the cleanliness of our services.
Remember that well-groomed hands – is not a luxury, it is a mandatory element of a women's image.
Click here to learn more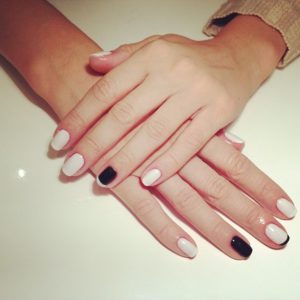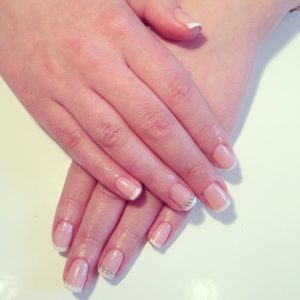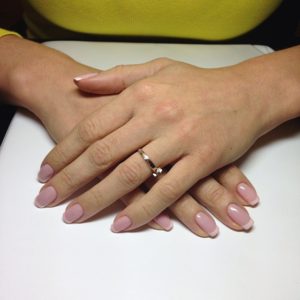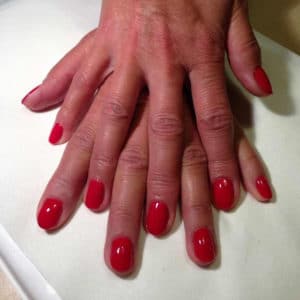 After a long working day, a workout, a pain in the low back, one massage therapy can help you recover quicker. Massage positively affects the body; it improves blood circulation metabolism and unleashes muscle stiffness.
Several massage sessions are a great way to overcome the annoying nuisance in the body, improve the immune system, and charge the body with energy and a positive mood.
Book an appointment for a massage today to boost your mental and physical health.
For skincare treatments in Paphos for facial, body and hair, we recommend Christina's Korouchtsidi Beauty & Spa Salon.
Body Waxing and Hair Removal Treatments in our Beauty SPA Salon in Paphos.
Waxing – is the treatment of getting rid of unwanted hair on the body. The skin remains its smoothness for two or three weeks. Regular waxing procedures weakens the hair and makes it thin as a result, the skin remains shiny and smooth for a longer period.
In our beauty salon, we do various waxing treatments using professional stripless gel, you may also have Hollywood or Brazilian waxing treatments., we will make sure that you have perfectly smooth skin and feel confident, without thinking about hair removal.
We will satisfy the desires of the most demanding client, as well as those who plan to get the desired result most affordably.
Safe, inexpensive, fast, and almost painless hair removal in all areas of the body, be it armpits, arms, abdomen, buttocks, back, or bikini area.
We have over 20 years of experience and we ensure your waxing treatment in our beauty salon in Pafos will be enjoyable and painless. We monitor and use the best products available on the market to ensure we provide you with the best possible results. 
Waxing at home – is painful and traumatic, trust the professionals for less painful hair removal and long-lasting effect.
Eyebrows Shape Correction
The shape of eyebrows we have by nature needs correction. We will favorably emphasize facial characteristics and add beauty to your look.
Our highly trained and experienced staff will make your eyebrows look natural and well-groomed. We use the best equipment and products to provide you with perfect results.
Visit our Beauty Salon in Paphos for your eyebrows, permanent makeup, coloring, and form shaping.
Beautiful brows should have a symmetrical and smooth arc. Their shape must fit the face type, nose, and eyes.
We will select the shape, remove unwanted hair, and, if needed, can provide a permanent makeup eyebrow
Feet massage in Paphos – How to get rid of foot swelling make your legs look beautiful, healthy, and light?
Feet massage is a highly beneficial and pleasant treatment that provides many benefits to the feet and the whole body.
The treatment is quick, pleasant, and inexpensive. It immediately helps all body get rid of stress, boost it with energy, and promote more deep and restful sleep at night. It is a quick easy, it also t will keep your feet healthy and rid of most feet problems.
Doing feet massage treatment in our Beauty Salon in Paphos will provide many benefits. As you may already know, our feet have many reflexogenic zones responsible for almost all organs in our body. These organs get stimulated by massaging those zones in the feet.
Feet massage relieves stress in the body and mind by reducing stress hormones like cortisol, adrenaline, and norepinephrine.
It fights pain by reducing the impact of pain receptors in muscles, fights inflammation by reducing cytokines, improves lymph flow, and relieves fatigue. It will significantly benefit those who stand a lot during the day or do sports like running, jogging, or cycling.
It accelerates blood flow in the whole body, helps deliver oxygen to the cells, and by doing so, boosts overall health.
We always keep cleanliness - all instruments are disinfected. We don't save on materials. We do beautiful and professional work.
Taking care of you in since 1999.
Welcome to our beauty salon's official website, where you may find information about our manicure, pedicure, waxing, and other services. Together with years of experience, our high-quality equipment will satisfy even the most demanding needs.
Beauty Salon "Rozita Karslidou" offers affordable waxing, manicure and pedicure, eyebrow services, and foot massage in Paphos center with comfortable parking. You will easily save time by getting to us, as our salon is located 5 minutes driver from anywhere in Paphos. Save your time and money. We can't wait to see you at our place, to make your hands and feet even more beautiful.
Rozita Karslidou opened her Beauty Spa Salon in Paphos, Cyprus, in January 1999.
Mrs. Karslidou is Greek. She finished her studies in Munich, Germany, where she mastered the Gerlach and Gehwol companies (Germany), the skills used in the Gehwol pedicure and manicure.
With over 20 years of experience in pedicure, manicure, eyebrows shaping, and more, and of course, her knowledge, you can trust Rozita's 100%.
May you have discomfort with your feet or need a decent pedicure, manicure, or other services our beauty salon in Pafos provides, please get in touch with us with your desired date and time, and we will contact you with a confirmation.
We are looking forward to meeting you!
Address of our Beauty Spa Salon in Paphos
Agapinoros 6, Paphos, 8046
For appointment please call (+357) 99467730 – Rozita
Contact us
About Gehwol Pedicure Products for Women & Men which you can buy in at our Spa in Paphos.
Feet are essential to body parts. We should spoil them more and show them that they are loved. We want to give our feet the strength and power to carry us easily to our goals.
Since our 20 years of experience with Gehwol, the brand has become synonymous with foot care in Cyprus and Worldwide.
The essential oils used in Gehwol products are from optimal quality products from controlled growing regions and – very important – meet the high standards which we set when verifying the essential oils. The care and selecting ingredients conscientiousness in the production of the products and the resulting efficacy has turned the Gehwol brand into a market leader in professional foot care. Trust and openness, pride and achievements, and joy and innovation are all represented by the Gehwol company. We always said: if it says Gehwol, it has to contain Gehwol.
The company stands behind the idea of natural strength for the well-being of the feet. Product development places value on natural ingredients, and the best use of essential oils of rosemary, lavender, mountain pine, eucalyptus, cloves, and thyme are the base of all Gehwol products from nature, pure and natural, effective and consistent.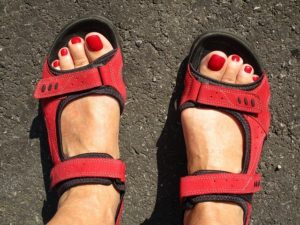 Pedi in Paphos for Women and Men – Simple Advice for Feet Health
One of the most often problems people have with their feet is dry and cracked heels. It occurs due to the lack of essential oil and vitamins. They are wearing open-toe shoes that leave the feet exposed to dirt and bacteria from the environment.
To maintain soft and beautiful feet, we recommend the following:
1) Get the pedicure done twice or at least once a month to exfoliate dead skin off your feet.
2) Purchase the right moisturizer for your specific needs to use in between pedicures. It will keep the feet moist and soft.
3) Apply the recommended moisturizer to your feet during the morning and again at night.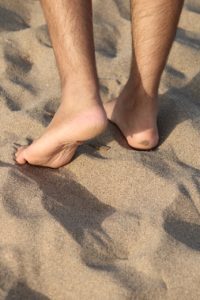 4) I highly recommend wearing socks during sleep to lock in the moisture.
5) There are many product lines in the market these days, but we at Rozita Karslidou Beauty Salon in Paphos use in our pedicures and recommend for home care use only Gehwol products. A German pharmacist developed Gehwol for podiatrists to help with all your foot care needs, including clients with diabetes.
6) To eliminate cracked and dry skin or other issues you may be having with your feet, ask us to recommend a product that works best for your individual needs. I also recommend keeping your feet hydrated and drinking plenty of water.
HOW WE DO A PERFECT MANICURE FOR WOMEN & MEN IN OUR BEAUTY SALON IN PAPHOS
The Nail Care Essential Treatment.
Clean nails. The first step in a Mani treatment of the hands at our beauty salon is to remove any colored nail varnish. For that, we use a lint-free cotton pad with a polish remover. We put the padding on the nail and let the polish remover soak into the varnish and pull down on the nail so that the nail's varnish won't go all up into the cuticle.
Shape nails. If your nails are a beautiful oval shape and we want to achieve that shape, we'll file from the corners of the pin into the center, with a sweeping motion that will ensure that you get the excellent oval shape that compliments an oval cuticle. If you want to do a square shape, we dip the nail file towards the cuticle and make side-to-side motions in one direction.
Groom Cuticles. We like to use the smoothest part of the buffer for the manicure we do at our beauty salon in Paphos because we don't want to do too much to the nail plate itself. All we want to do at this step is remove any stains or rough bits from the nail file. After that, I might want to do some buffing, especially if you had red or dark colors that stained your nails.
Prepare nails. Then we use the gel cuticle remover. We will put it around the cuticles to soften them, loosen the skin from the nail plate, and massage it in. Then we will dip the client's hand in warm soapy water, which will loosen the cuticles from the nail plate and make it easier to push back. After the soaking, we will dry the hand and then push back the cuticle with a cuticle pusher. Then we will use a little cuticle oil to rub into the cuticles that we've just manipulated back off the nail plate.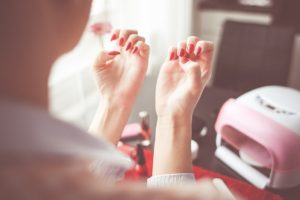 After we put some oil and rub it into a cuticle, we will use a little bit of hand cream because manipulation and circulations are always good for the hands.
Apply the nail polish. Before we put varnish, we'll have to prepare the nails, which means getting off any lint or excessive moisture oil because varnish needs to have a dry nail plate to adhere to. We use a cotton wool pad and a varnish remover and give a good wipe over all the nails before we apply the base coat. The base coat will depend on the types of nails.
After applying the base coat, we'll want to apply it to coats of color. We generally do during the Manicure in our Beauty salon in Paphos. We like to start from one side of the nail and work our way across. Then we start from the left side and move to the right side of the nail after we finish varnishing. We will swipe across the tip of the nail to prevent chipping. Then we will apply a second coat for the varnish to last longer, and we don't get any varnish peeling off.
Seal and Shine. It will protect your nails from chips keep them shiny, and lasting longer. At the next step, we will apply the topcoat. Then after a minute or two, we will use dry speed drops to dry the varnish quickly.
We do also provide a simple executive manicure for men in our Beauty Salon. 
Were you looking for a Manicure treatment near you! Now, you may try this fabulous manicure at our Rozita Karslidou – Beauty Salon in Paphos at Agapinoros 6 street.
WAXING TREATMENT IN OUR BEAUTY SALON IN PAPHOS – TIPS ON HOW TO TAKE CARE OF THE SKIN AFTER THE PROCESS OF HAIR REMOVAL.
After you get waxed, you should do a couple of things to treat the area.
Try not to use any oils because your pores are opened, you don't want to close them, so it's better to put some aloe vera on instead.
If you want to get rid of the red skin quickly, you may also ice it. Also, I recommend putting sunblock on there, but nothing with a moisturizer because it can cause sebum build-up, and you don't want that to happen.
If you have sensitive skin, always put on something like cool cotton next to it.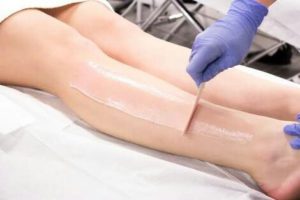 If you've waxed your face during the summer, instead of putting on some moisturizer, just put a hat on to protect your face skin from exposure to the sun.
Some people get bumps after waxing or ingrown hair, so you don't want to go to the gym after your skin waxes because you will sweat and start getting red dots and breakouts to avoid that.
After a waxing treatment, we also recommend our client exfoliate the skin. Clients can use a body cloth at home to prevent minor bumps and ingrown hair and apply these tips on every place of their body, legs, back, bikini, etc.
You can use after waxing balms that contain salicylic acid that can help to prevent the little bumps.
Stripless Waxing in Paphos
Stripless waxing is a way to remove unwanted body hair using unique products and techniques. The warmed wax is spread over the skin's treated area and then plucked with a sharp movement along with the hairs—the number of zones where hair removal is performed and their area affects the treatment cost.
You can book your waxing treatment in Paphos for a reasonable price and with excellent results at Rozita's Karslidou Beauty Salon. Specialists at the beauty salon will professionally cope with any task assigned.
Benefits of waxing
Waxing carried out by professionals in our beauty salon has many advantages:
Waxing is inexpensive! This treatment is based on simple ingredients that are affordable and not too expensive.
Waxing out the beauty salon allows you to quickly and will less pain, remove hair from any part of the body.
After waxing epilation, the irritation on the skin occurs less often. The technique of performing the treatment is soft and relatively painless.
The smooth effect after such depilation lasts long enough.
The products used in our beauty salon are hypoallergenic. As a result, when applied, the skin shows no allergic reactions.
Many clients value waxing treatment at our beauty salon for its softness, safety, effectiveness, and affordability!
Here are a few recommendations to make your waxing session at our salon more enjoyable.
Before visiting us, the below points are recommended to achieve better results in the treatment:
1. The hair length in the depilation area must be at least 5 mm.
2. A day before, it's a good idea to scrub the skin. It will help the process of waxing.
3. Take a relaxing bath before visiting the salon.
4. Do not sunbathe for a couple of days before waxing.
5. It's a good idea for women to wax treatment within a few days after the end of their period. Higher tolerance to pain characterizes this period; thus, pain during the treatment is minimal.
The feeling of pain is decrementing among the regulars of the waxing treatment. This happens due to hair becomes lighter and thinner with each new session. The more treatments you'll do, the less pain you will feel.
Should you require a professional & inexpensive waxing treatment near you, we will be glad to see you at the beauty salon.
Frequently Questions and Answers
Where are you located?
We are located at Agapinoros 6, Paphos
How long does the procedure treatment take?
Pedicure duration is 1-1,5 hours, approximately
How long does the manicure take?
Manicure duration is 40 minutes, approximately
How long does the manicure with shellac take?
Manicure + shellac duration is 1-1,5 hours approximately.
How long does the waxing treatment take?
Waxing duration – 1 hour, approximately depending on which part of the body you require a wax treatment.
What is included in the pedicure treatment?
We coat the nails after we remove the dead skin for the feet with both classical and modern pedicures methods. First, we do a footbath to cleanse and soften the skin, then work on the nails and cut them. In the last step, we apply powder and cream.
Can my old coat be removed?
Sure, we will remove the old coat.
What cosmetics do you work on during pedicure treatments?
We work with professional products from a German company – Gehwol.
How often can a pedicure be done?
You can do pedicures whenever you want; a recommended time is once per month to keep your feet clean and healthy.
How often can a manicure be done?
We recommend doing manicures every 2-3 weeks to keep your nails and hands in perfect condition.
Does a manicure or pedicure have any health benefits?
Yes, they keep your nails and skin healthy and reduce the risk of fungus.
Are French manicured nails outdated?
No, the French manicure is a classic type of manicure which is never outdated.
Why are manicures essential?
Manicures are essential because they keep your nails healthy and tidy, they increase your self-esteem, and provide great emotions.
What is a manicure?
Manicure is a treatment done by a Beautician or Manicure master. It's a cosmetic treatment that aims to make the hands look more beautiful.
Is manicure healthy for nails?
Sure, manicures help keep the nails clean and reduce the risk of cases when the nail gets into the skin.
What is a shellac manicure?
Shellac is a coating done to the nails during a manicure treatment.
What are the benefits of doing a professional manicure in a salon?
Often the manicures treatments done by a professional master have longer results and a more beautiful look.
How often should you take a break from a shellac manicure?
It's up to you, and there are no strict dates. When you see and feel like your hands need a shellac manicure, then you can do it—no need to do it earlier.
Do people notice when your manicure is messed up?
Sure, both women and men pay a lot of attention to their hands when meeting another person. A person with a messed-up manicure may give a negative first impression.
What occurs during a manicure? Does it hurt?
During the manicure treatment, there are several steps (including cutting the nails and dead skin). None of them hurts if done correctly and by a professional.
How long do manicures last?
Usually, manicures are in great shape for 2-3 weeks. They can last up to 4-5 weeks.
Why do people get pedicures?
Pedicure treatment diseases the risk of skin and nails problems. During the pedicure, the dead areas of the skin are removed; therefore, the appearance of dry calluses, corns, and cracks is prevented. Deburring and proper pedicure treatment reduces the change of inflammation and feet odor.
Is it okay for a guy to get a pedicure at a salon?
Men are welcome to have pedicure treatments. It's perfectly okay. It's recommended as pedicure prevents several skins and nails problems.
What are the differences between a spa manicure/pedicure and a regular manicure/pedicure?
The spa manicure/pedicure treatments usually include a foot/hands bath and a warm towel.
How often should you have a professional pedicure?
Every 2-3 weeks is recommended, at least once a month for persons wearing closed shoes or having nails/skin problems.
What does a professional pedicure include?
A foot bath, removal of keratinized skin, so calluses, corns, and cracks are prevented, nails cutting and coating, the appliance of professional cosmetic creams and powder as well as fungus prevention products.
How often should a man get a pedicure?
The difference between men's and women's pedicures is that women apply a coat to their nails, and when it's removed, it is a sign to make a pedicure. Men can do pedicures as often they like; it is recommended to have a pedicure treatment at least once a month.
Can people with diabetes get pedicures?
Yes, but they need to inform the beautician so extra attention will be taken when cutting nails and keratinized skin.
How long does one coat of a pedicure last?
Usually, the coat of a pedicure lasts 3-5 weeks.
Do pedicures tickle or hurt?
Pedicures can tickle when a beautician removes calluses; most clients enjoy this process. As for the nails, a pedicure can hurt if their nail is penetrating the skin and need to be cut.
Which cream is best for a pedicure?
We believe that creams from German company Gehwol are the best for professional pedicure treatment and foot care treatments at home.
What is the average cost of a pedicure?
We do a professional Gehwol pedicure for 25 euros.
Can I wear closed-toe shoes after a shellac pedicure?
You should not wear close-toe shoes straight after the pedicure treatment to not damage the shellac coating on nails, and you need to let shellac dry first.
How do you know it's time to go and get a pedicure? What would your feet be looking like?
It's time to make a pedicure when you feel that you have hard skin on your feet, the nails have grown if you have calluses or feel discomfort with your feet.